One of the hottest trends in UK homes is the outdoor kitchen. Building an additional kitchen is one of the easiest ways to hike the value of a home, as well as add valuable space. Families with kids know the convenience of cooking outside — away from potential accidents or attention-seeking toddlers. Outdoor kitchens aren't just for the rich. Even a normal family can afford them, with a few tweaks to make them less expensive.
Tiles as Decking
Most outdoor kitchens sport elevated wooden decking. Ceramic tiles can serve as ideal replacements — and they're easier to clean and maintain. There are tiles that mimic the appearance of wood if you prefer the look. Your guests probably won't go down on their hands and knees, just to confirm the materials used in your decking. Tiles are waterproof and won't stain whatever mess you make.
Sweeping with a broom or a mop should be enough to clean any mess, and you don't have to worry about termites coming up from the ground. Opt for tiles with a bit of texture to prevent slips and falls. Installing your tiled deck should take a couple of days or so, and you'd be paying a third of what you'd pay for hardwood.
Movable Stations Instead of a Fixed Kitchen
You can build your ideal outdoor kitchen in parts by opting for portable stations instead of the usual fixed kitchen. You can buy a stove and aluminum stations for a fraction of the cost of fixed ones, and you can customize what appliances you'll need. Add an oven for pizza or baked goods, or a bar for drinks. Going portable makes it easier to configure your outdoor kitchen for various occasions.
A separate cook can handle each station, and you can put some distance between them to create extra space. It also makes it easier to store your stuff in case of heavy snow and other unforeseen events.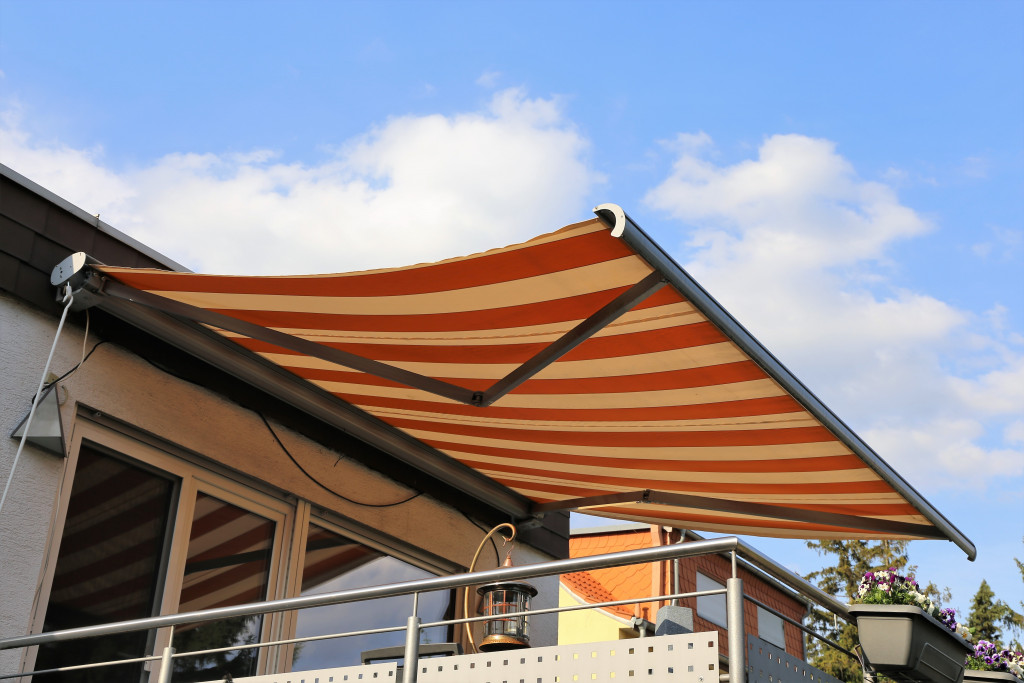 Retractable Awning
Extended porches or roofed patios are great for protecting your guests from the sun and rain. A retractable awning does the job just as well, and you'd be shelling out a fraction of the construction cost. Opt for awning used by commercial establishments, and your setup will appear as elegant as traditional porches or roofed patios.
A retractable awning allows you to enjoy the sun when you want to, without leaving the confines of your deck. Fold it up and enjoy a night under the stars to make gatherings more intimate and memorable. Outdoor kitchen roofing can cost up to £20,000 — but you can get a high-quality commercial retractable awning for around £2,000-£7,000.
Music and Lighting on the Fly
Sights and sounds can make your outdoor kitchen seem more opulent. A few dangling LED lights and some light music can create an ambiance conducive to conversation — while pumping music and flashing lights can set the stage up for some dancing. Install a few Bluetooth speakers and you can dish out music from your iPhone. Send out a few invites to your neighbors and get into their good sides to avoid noise complaints. You can get decent Bluetooth speakers for less than £100. Set a few up for parties or pair them with different devices so you can play different kinds of music in different areas of your yard.
A Fire Pit to Set the Mood
Nothing raises the spirit like the light of a good fire. Flickering flames will enchant your guests and add life to your gatherings. Go for a traditional wood fire pit and add the sounds of crackling wood and the scent of burning oak or ash to your parties. Wood fire pits create a sense of nostalgia, bringing you back to memories of better days when life was simpler. You can also opt for gas fire pits if you don't want piles of wood in your backyard.
Gas fire pits are safer and easier to operate. One press of a button will light it up, and it won't produce the smoke and residue common in wood-burning pits. Add colored fire stones, and you can make your fires appear in various colors depending on the mood of the party. You can get a decent fire pit for less than £500.
Building an outdoor kitchen isn't as expensive as you expect. Switch a few options and you can have the outdoor kitchen of your dreams for a fraction of the price. Get cooking and get the party started without breaking the bank — and you'll have more money to spend on food and booze.