When you're on a trip, you need to take care of your hair. Factors such as heat and pollution put a strain on your luscious locks and prevent them from looking beautiful.
The good news is that you can apply care tips to keep your hair healthy and strong. Here are six suggestions you could follow while you travel or go on vacation:
Bring Your Hair Care Products
Hotels usually offer free shampoos and conditioners for guests. These products, however, may not the best for your hair. Although using them from time to time is ok, you should not wholly depend on the complimentary items you find in your accommodation. Washing your hair with cheap shampoos or conditioners could strip away the essential oils present on your scalp.
As much as possible, bring small bottles of the hair products that you use at home. Whether they're a natural anti-hair fall shampoo or a hydrating conditioner, you'll want to carry salon-grade goodies that will keep your locks looking fantastic wherever you go. If you're not sure which product is right for your hair and scalp, consult with your hairdresser and take note of their product recommendations.
Brush Your Hair Regularly
Combing may not seem like an important activity, but it's an integral part of grooming, hygiene, and hair health. Proper brushing flattens the cuticles to hair your hair more reflective. It also cleans the scalp by getting rid of dead skin cells and old hair.
When you're on vacation, keep these brushing tips in mind:
Get the Right Brush for Your Hair — There's no such thing as a brush that fits every type of hair. If you have straight hair, for instance, you'll need bristles that are different from other styles like coarse and curly hair. Check with your hairdresser on the best brush for your hairstyle.
Brush Wet Hair Carefully — If you've just gotten out of the beach or lake, you'll want to comb your locks gently. Water fills the hair fibers with moisture and weakens the shaft. Before you reach for the comb, apply conditioning treatment spray while your hair is wet. Then, use a wide-tooth comb or a damp brush.
Follow the Correct Brushing Routine — Although simply brushing from root to tip may be an efficient way to comb your hair, it's not the right way. When brushing, begin combing the ends of your hair. Then, work the brush slowly from the hair tips to the scalp.
Avoid Brushing Your Hair Too Much — The recommendation that you need to comb your hair for a hundred strokes a day isn't right. Over-brushing can irritate the outer portion of your hair and lead to dull and dry locks. Just brush your hair thoroughly and once a day — no need to meet the famous 100-stroke quota.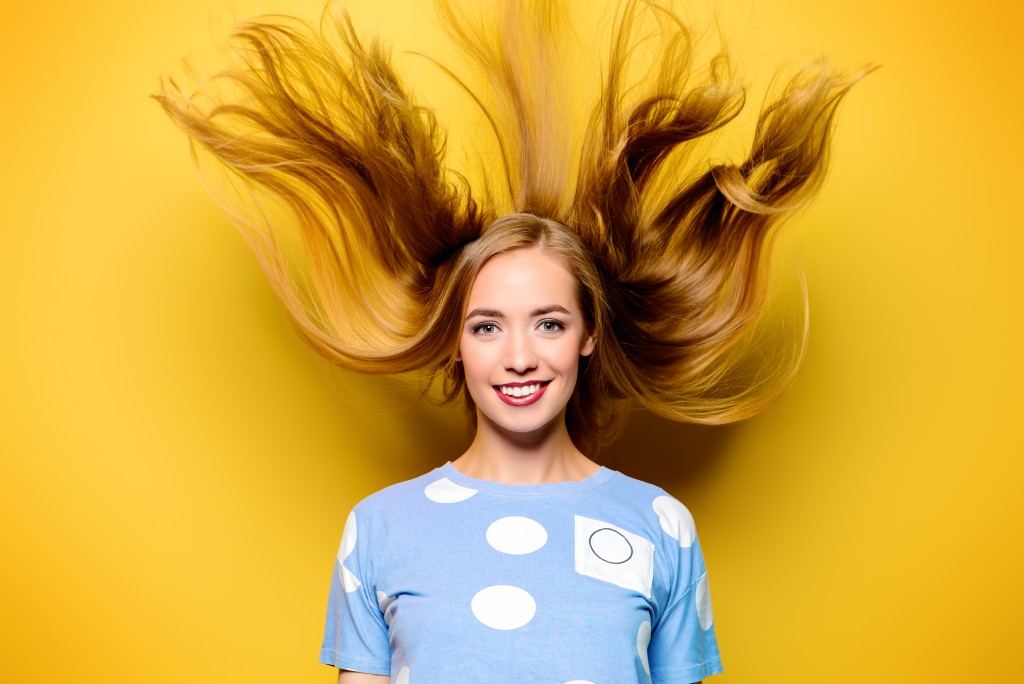 Safeguard Your Hair from the Harsh Sunlight
If you're heading to the beach, try not to keep your hair exposed for too long. Too much sunlight could cause your hair to dry out or frizz.
After you apply sunscreen on your skin, remember to wear a hat or a headscarf. These accessories create a barrier that protects your hair and scalp from the heat of the sun. Alternatively, you could invest in an eco-friendly UV protection spray and use that on your hair.
Protect Your Hair from Chlorine
If the hotel you're staying in has a lovely swimming pool, check if it's chlorinated. If you confirm that the water has chlorine in it, you'll need to protect your locks from this pool ingredient. Although this chemical helps keep the water clean and safe to use, it can be a nightmare for your hair. Chlorine, for instance, takes away the beneficial oils present in your hair.
Before jumping in the water, use a marine-safe leave-in conditioner on your locks. If you don't have one of these hair care products with you, wear a swimming cap. Once you get out of the water, shampoo your hair rigorously to effectively get rid of the chlorine on your hair and scalp.
Stay Hydrated
Dehydration is an enemy you should avoid when you're on vacation. It dries the hair shafts, which may result in hair breakage and split ends. Keep dehydration at bay by drinking plenty of water, especially if you're in a hot and humid location.
Tie Your Hair
If you're going to do water activities like scuba diving or snorkeling, remember to tie your hair to prevent it from getting damaged or tangled.
Enjoy your vacation, and keep your hair healthy by following these six care tips. These suggestions will help your hair stay healthy and look fabulous wherever you are in the world.