For some time, swimming pools were considered a preserve of high-end mansions, health clubs, and hotels. These days, you can have a swimming pool installed on all properties. The building innovations currently available for swimming pools make it possible to fit them on even seemingly small spaces. The innovations also make their installation and maintenance low cost. Just because everyone has a swimming pool is no reason for you to opt out of getting one in apprehension that your property will resemble everyone else's.
You can stand out with custom hot tubs for the pool in your Salt Lake City property. This element, incorporated on one side of the pool, turns the swimming pool into a luxurious getaway and massages your sore muscles after a hard day. Other than the hot tub, you can create a unique design for your pool using pool lighting. The lighting will also illuminate your pool area for nights and when entertaining. Here are some of the mounting options you have to transform your pool area using lights.
Flush Mounting
Lights will line the walls of your swimming pool and generate underwater lighting. You can choose to use halogen or LED light bulbs for this form of pool lighting. The beauty of flush mounting your swimming pool's lights lies in the fact that they will not stick out from your pool. To this end, they will perfectly highlight the design elements in your pool's walls and floors and are not easily broken. Flush mounting is the ideal choice if you want to highlight the swimming pool specifically. It is however expensive to install and maintain the lights in this mounting alternative.
Surface Mounting
The lights in your pool area will be installed around the pool's periphery. They will then light up your entire pool area. Unlike flush mounted lights, surface mounted pool lights are easy to maintain and install and will, therefore, be inexpensive. The lights will nonetheless stick out from the pool's edges. These can easily break as kids might use them as steps when climbing out of the pool.
Floodlight Mounting
These are set up on high masts or at the highest point of the walls surrounding your pool area. The lights will illuminate your swimming pool and the surrounding area. Floodlighting is preferable for those aiming to light up a large area of their backyard using an energy-efficient alternative. This mounting alternative also protects your lights from damage though it also makes it challenging to repair them.
Garden-Style Mounting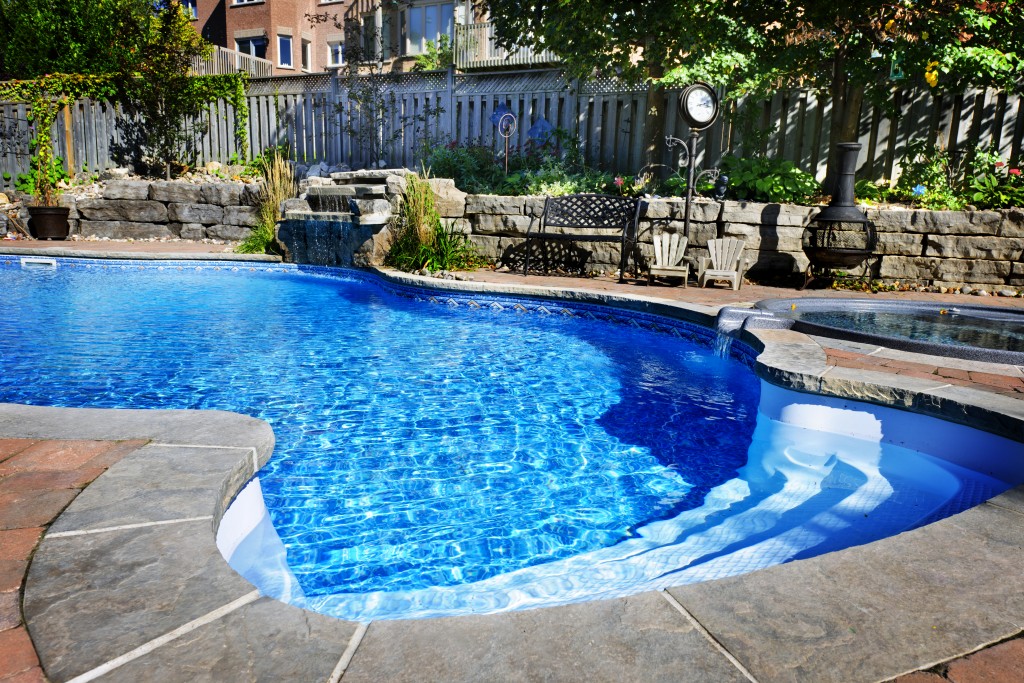 Your pool lights are mounted on short poles around the pool area much like garden lights. You can use different pole designs for the installation of your lights and make a design statement. Most people choose garden-style lighting aim for a Greek or Roman-like design when this pool lighting is matched with different elements in the gardens.
The above mounting options are only part of the equation when using lights as a design element for your pool. You can also choose different colors to match your outdoor design elements and create the right atmosphere. Blue, for instance, will create a relaxing pool atmosphere while green is therapeutic and calming.