Cleanliness in hospital rooms is essential in reducing healthcare–associated infections (HAI). Research shows that 1 out of every 25 hospitalized patients in the U.S. is affected by an HAI. HAIs occur in all types of healthcare settings, including outpatient care facilities, acute care hospitals, dialysis facilities, surgical centers, nursing homes, and rehab facilities. A multidisciplinary approach to cleanliness and hygiene is crucial to keeping patients and workers healthy and safe from infectious diseases.
Cleaning vs disinfecting
Dirty surfaces can be breeding grounds for diseases such as E. coli, influenza, and salmonella. Thorough cleaning and disinfecting will help keep these illnesses at bay.
Many people think that cleaning is the same thing as disinfecting, but these procedures have different purposes.
Cleaning removes dust, dirt, dust, and germs from surfaces. Washing, scrubbing, or rinsing will keep surfaces spotless and odor-free.
Although dirt particles may be reduced through cleaning, bacteria may still be present. Disinfecting helps kill bacteria and keep the room disease-free. Common disinfectants include bleach and alcohol solutions. Disinfectants usually have to be left on surfaces and objects for a certain period to effectively eliminate germs.
With new multipurpose products available in the market today, cleaning and disinfecting no longer have to be two separate methods. For healthcare settings, select multipurpose products that feature hospital-grade disinfectants. Spray them on counters, floors, walls, and hard-to-reach places. Follow cleaning label instructions carefully to ensure no harmful bacteria remains.
Selecting the right cleaning agents
When choosing disinfectants, determine their safety profile, required dwell time, and whether they will damage surfaces. Installing polyaspartic floor coating can help protect hospital floors against the effects of chemicals, moisture, corrosion, abrasion, and daily wear. Such flooring coating systems are also stain-resistant, allowing easy cleaning and guaranteed hygiene.
Using microfiber cloths
Microfiber pads, mops, cloths, and towels are designed to effectively pick up dirt and germs on a surface. They're made from polyamide and polyester with microfibers as fine as human hair. When woven together tightly, the fibers can hold large amounts of water and trap dirt particles successfully.
Microfiber cleaning products are found to use 95 percent less water and chemicals. This allows hospitals to cut down on expensive chemical-based cleaning products. Since microfiber can absorb more water, floors will be left less slick. This reduces the risk of slips, resulting in a safer environment for patients and employees alike.
Microfibers need to be dampened with clean water or a commercial detergent. They must also be changed frequently to prevent the risk of cross-contamination throughout the hospital.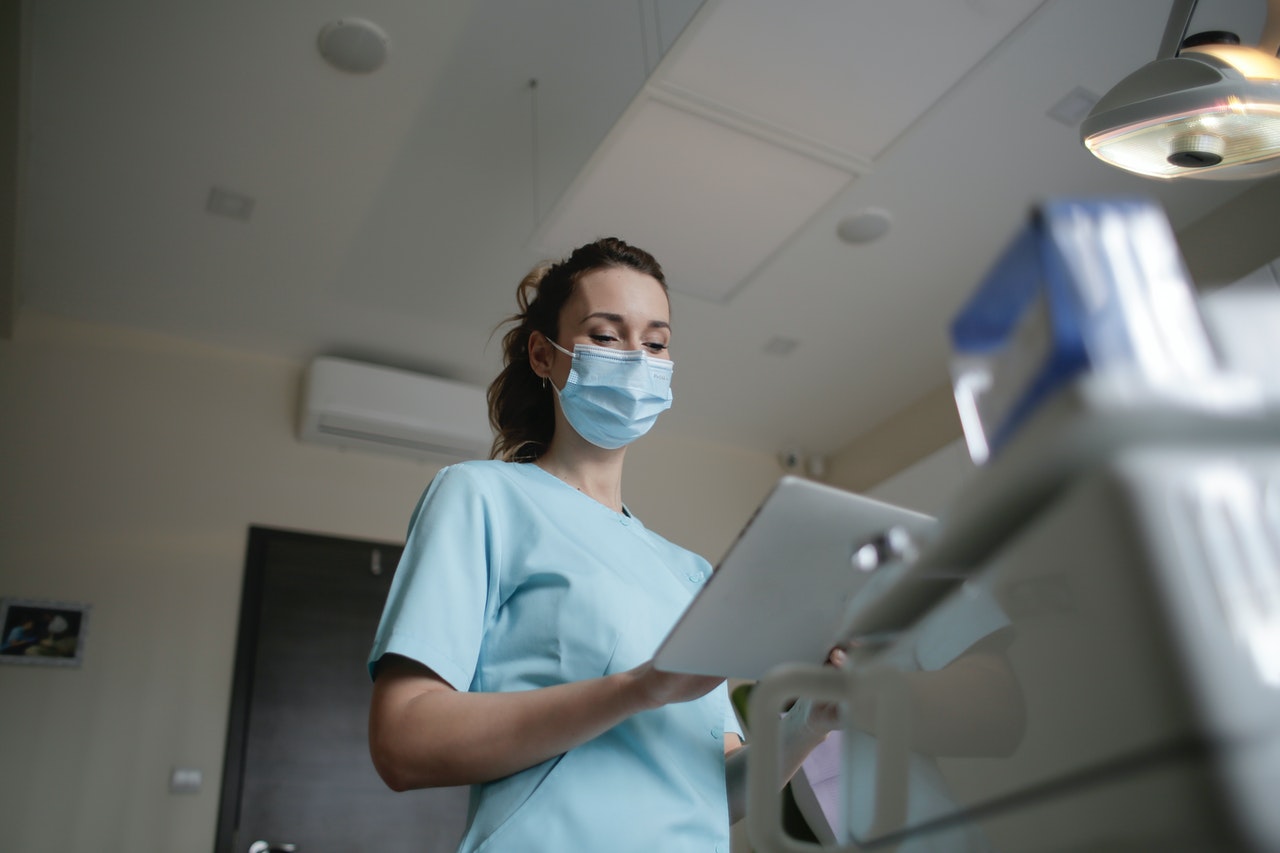 The importance of PPE
Cleaning staff must always wear personal protective equipment (PPE) when on duty. Latex gloves and protective eyewear will prevent direct contact with contaminated surfaces.
Gloves must be worn properly to stop the spread of deadly pathogens. Staff must regularly change gloves between cleaning tasks and when entering rooms. Never wear gloves in hallways and areas with high traffic. Once a job is finished, gloves, apron, eyewear, and surgical masks must be disposed of properly.
Creating a safe and hygienic environment can be challenging in a healthcare environment. But with the right processes in place, hospitals can be cleaner and safer places for recovery and healing.