Outdoor spaces can be great for relaxation and creativity, whether at home or in the office. Unfortunately, many people don't take advantage of these spaces to their fullest potential. This blog post will show five ways to make the most of your outdoor areas. These tips will help you create an inviting and functional space that you can enjoy for years. So, get ready to take your outdoor area to the next level!
1. Create a Relaxing Space
One of the best ways to elevate your outdoor space is to create a comfortable and inviting seating area. This can be achieved by adding oak structures, like pergolas and gazebos, to your space. These structures provide shade and style, making them the perfect addition to any outdoor area. Also, outdoor furniture plays a significant role in creating a relaxing space. Be sure to choose furniture that is comfortable and stylish.
You can add personal touches to your space, like potted plants and flowers. These elements will not only make your area more visually appealing. Still, they can also help to create a more relaxing atmosphere. So, take time to personalize your space and make it your own.
2. Add Lighting
What's the point of having an outdoor space if you can't enjoy it at night? Adding lighting to your space is a great way to extend its use into the evening. Many types of outdoor lights are available, so you can choose the ones that best fit your needs. For example, string lights are perfect for adding a touch of romance to your space. Or, you can use solar lights to create a more eco-friendly space. Whichever type of light you choose, be sure to add it in strategic places so that your space is evenly lit.
You can also use lighting to highlight certain features in your space. For example, you can use spotlights to draw attention to a beautiful tree or sculpture. No matter how you choose to use it, lighting is a great way to add function and style to your outdoor space.
3. Incorporate Water Features
If you want to create a truly relaxing space, then you should consider adding a water feature. The sound of running water is known to be calming and can help to mask any unwanted noises from the outside world. Water features come in all different shapes and sizes, so you're sure to find one that fits your space. For example, small fountains are perfect for small patios or decks. Or, if you have a large backyard, then you could install a pond or waterfall.
With so many options available, there's no excuse not to add a water feature to your outdoor space. Not only will it look great, but it can also help you create a more relaxing environment.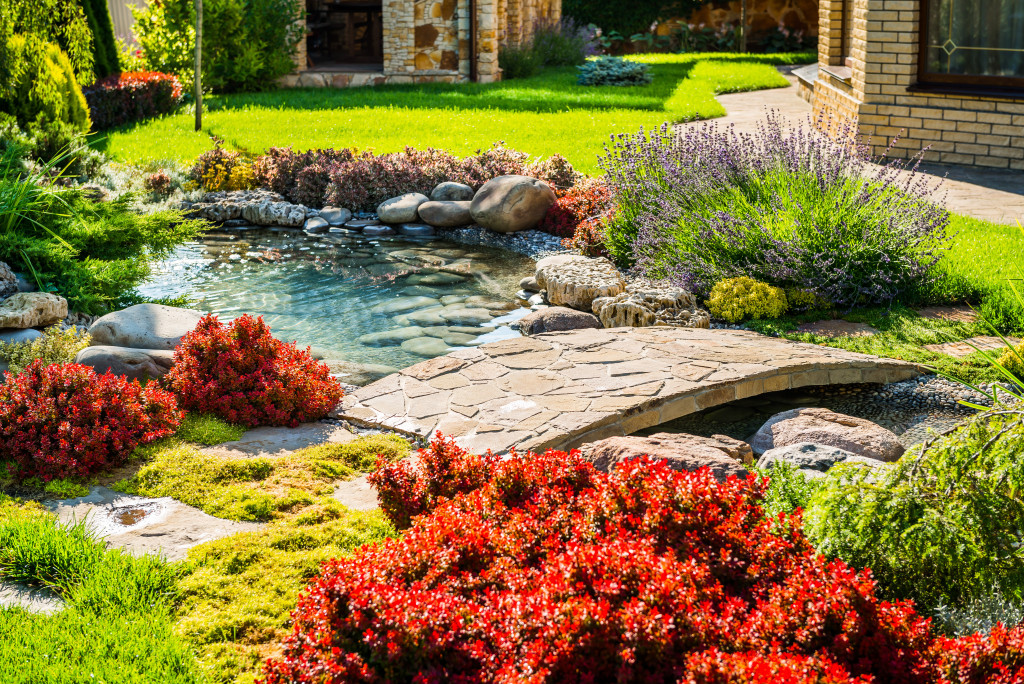 4. Grow a Garden
Your outdoor space doesn't have to be just for relaxation. It can also be a great place to grow your own food. Gardening is a great way to get outside and enjoy the fresh air. Plus, it's a great way to save money on your grocery bill. If you're new to gardening, then start small. Grow some herbs or vegetables that you can use in your cooking. Once you get the hang of it, then you can start to add more plants to your garden.
If you don't have a lot of space, then consider growing a vertical garden. This type of garden is perfect for small spaces and can even be grown on a balcony. You can find all the supplies you need to get started at your local gardening store.
5. Add Some Fun
Last but not least, don't forget to add some fun to your outdoor space! If you have kids, then they'll love having a place to play outdoors. You can add a swing set, trampoline, or even a pool. Or, if you're looking for something more adult-friendly, then consider adding a fire pit or outdoor kitchen. These features are great for entertaining guests and can really make your outdoor space stand out.
You can also use your outdoor space to pursue hobbies that you enjoy. For example, if you love to cook, then consider adding an outdoor kitchen. Or, if you're a gardener, then you can use your space to grow a beautiful garden. No matter what your interests are, there's a way to incorporate them into your outdoor space.
Creating an outdoor space that you love doesn't have to be difficult. Following these simple tips, you can turn your backyard into an oasis you'll never want to leave. So, what are you waiting for? Get started on elevating your outdoor space today!